Coal Mining Methods
The choice of method is largely determined by the geology of the coal deposit, in particular the depth of the seam below the surface. The majority of the world's coal reserves are recoverable by underground mining. Currently, almost two-thirds of hard coal production worldwide comes from underground mines, but in certain important coal producing countries, such as the USA and Australia, this proportion is significantly lower.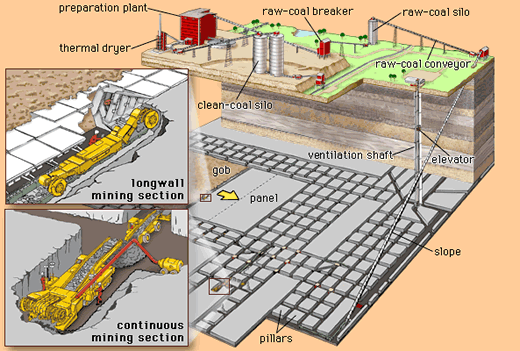 Underground Mining
There are two main methods of extracting coal by underground mining: room-and-pillar (or, bord-and-pillar) and longwall mining.
Room-and-pillar mining involves cutting a network of 'rooms' or panels into the coal seam and leaving behind 'pillars' of coal to support the roof of the mine. Initially, recoveries are reduced (to 50-60 per cent) because of the coal left in the pillars - however, this coal can sometimes be recovered at a later stage of mine life.
Longwall mining involves the use of mechanised shearers to cut and remove the coal at the face, which can vary in length from 100-250 m.
Open-Cut (Surface) Mining - Coal Mining Equipment
Surface mining, economic only when the coal seam is relatively close to the surface, recovers a higher proportion of the coal deposit than underground methods.
The equipment used includes: draglines, which remove the overburden (the term given to the strata between the coal seams and the surface); power shovels; large trucks, which transport overburden and coal; bucket wheel excavators; and high capacity conveyors.
Surface mining equipment has increased dramatically in size over recent years. However, in some countries, the high capital cost of importing this equipment can favour the selection of underground mining.
Coal Mining Equipment
SBM has 30 years' experience in crusher and grinding mill, is a leading mining equipment manufacturer in China. We supply all kind of coal crusher, coal mill, and coal mobile crusher for coal industry. We devote ourselves to research new coal mining machines for our customers and supply perfect service.