Coal Grinding Line
Coal mill production equipment and diverse types of system components, scientific and rational combination significantly improved the overall performance of the equipment. High-pressure grinding mill mainly by the host, blowers, ultra-fine analysis machine, finished powder cyclone plot device, bag filter and connecting duct pipes and other components, according to user needs can be equipped with elevators, storage silos, control cabinet, to the powder machine, broken machines and other auxiliary equipment.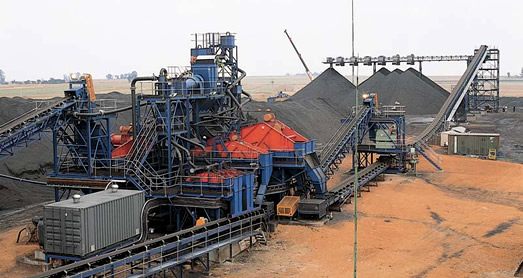 Coal Processing Plant
Micro-grinding mill in the interior, through the cross arm roller assembly roller shaft hanger hanging on the hanger roller blade knife with a fixed spindle and connected, the pressure spring tension rod tightly pressed by the roller bearings in the room the outer end of the cantilever to support points cross arm axis, so that by the spring pressure grinding roller pressure in the ring tightly round the surface, when the motor rotates through the gear, mounted on the shovel blade on the knife and roller synchronous rotation, roller surface in the grinding ring round the same time rolling around on their own turn, analyze machine driven by the motor drives the impeller rotating analyzer, the analyzer determined the speed of adjustment of the powder fineness.
SBM is a industrial coal processing supplier in China, and design coal crusher for coal crushing process. With the development of 30 yesrs, our products have formed two main kinds – crushers and grinding mills. Crushers include jaw crusher, impact crusher, cone crusher, and vsi crusher. Grinding coal mills include ball mill, raymond mill, vertical mill, and ultrafine mill. We also supply a complete crushing and screening plant, such as stone crushing plant, coal crushing plant, ore crushing plant, concrete crushing plant, construction waste crushing plant and ballast crushing and screening plant. Now our crusher machines have export to all over the world, such as Indonesia, Philipines, India, Vietnam, USA, Australia, South Africa, Egypt, Germany, Poland.