Ball Mill Introduction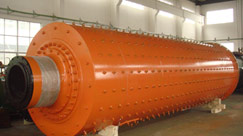 Ball mill is the key equipment for grinding after the crushing process, which is widely used in the manufacture industries, such as cement, silicate, new building material, refractory material, fertilizer, ferrous metal, nonferrous metal and glass ceramics and can be used for the dry and wet grinding for all kinds of ores and other grind-able materials.
This machine changes the intrinsic grinding machine structure. Its body and ground plank are an integral whole. So when fixing, it can be lowered on a plane surface once only. Use double tiered roller axletree with centripetal spherical surface as the support of the host axletree can reduce energy cost by 30%. The intrinsic grille pattern forcing evacuation is instead by over fall pattern controlling one. This can improve the milling of the granule and the quantity dealt with is reduced by 15-20%.
SBM in Indonesia
Our Ball Mills have been exported to more than 130 countries, Indonesia, India, South Africa, Vietnam, Nigeria, Saudi Arabic, ect. Our Ball Mill widely used in global mining and construction industry. SBM is the biggest Ball Mill manufacturing company, we have 30 years Professional Crushing and Grinding Mill Manufacturing Experience. Authentication by 200 thousands Customers ,Certificated by ISO9001 : 2000 Quality and Managementand EU CE . Each year, SBM would put 5% of sales revenue on R & D. It aims at upgrading its products to the world top level with the tenet of "Quality Changes the World".
For to better serve Indonesia customers, SBM established Indonesia office in 2009, if you want to buy Ball Mill, please contact us. We are here to help your business.
Ball Mill in Indonesia