Limestone mining Machine
Our Company in Limestone mining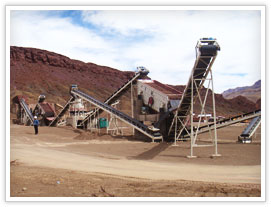 We are professional manufacturer of limestone mining equipments, we provide stone crushers, grinding mills, sand washing machine, vibrating screen, ect. Our limestone mining equipments have been exported to more than 160 countries. we have 30 years Professional limestone mining Manufacturing Experience. Authentication by 200 thousands Customers , SBM limestone mining machines have been certificated by ISO9001 : 2000 Quality and Managementand EU CE .

The limestone mining process is complicated process and need many mining equipment. Through the mining process limestone boulders are turned into all sizes of materials. The blasting process is the first step determining what needs to be accomplished next. Rock hammers, drop balls, primary crushers, and gyratory crushers all contribute to the limestone mining process. Coarse materials are sent by belt conveyer to the limestone crushing plant or limestone grinding plant for additional crushing, grinding and sizing. The mine stockpiles different sizes of limestone materials for their customers.
More limestone mining equipment information, please visit limestone crusher . If the common limestone mining equipment can not satisfy your need, SBM can design special limestone mining equipment depending on your limestone, capacity, final size and other demands. Please believe SBM can supplier perfect limestone mining equipment for you.