Granite quarry machine
Granite quarry processing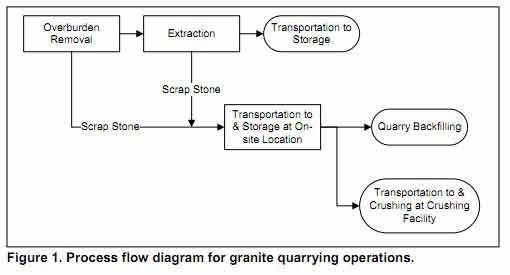 As shown in Figure 1, the first step in quarrying is to gain access to the granite deposit. This is achieved by removing the layer of earth, vegetation, and rock unsuitable for product—collectively referred to as overburden—with heavy equipment and transferring to onsite storage for potential use in later reclamation of the site. After the face of the granite is exposed, the stone is removed from the quarry in benches, usually 8 to 12 feet square extending 20 feet or more using a variety of techniques suitable to the geology and characteristics of the granite deposit. Quarrying operations typically include the drilling of holes along the perimeter of the bench, followed by either cutting the stone out of the deposit using saws equipped with diamond wire, or by splitting the stone using hydraulic splitters or small explosive charges. Once the bench is cut or split loose from the deposit, heavy equipment is used to lift the granite bench and transfer it to an inspection area for grading, temporary storage, occasional preprocessing into slabs, and eventual shipment from the site. Granite of insufficient quality or size for current demand is stored on-site for future use, crushed for use in paving and construction applications, or stored for future site reclamation activities.
Granite quarry plant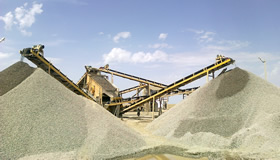 We provide the granite quarry machine for "Transportation to & Crushing at Crushing Facilit" step.A complete granite quarry plant need stone crushers for granite blocks crushing,granite feeder for granite feeding,conveyor for crushed granite stone transport,and granite screens to screening granite blocks into different types by their size.
If you need Granite quarry machine,please contact us.our Granite crushing machine has been exported 167 countries.