Silica Sand Crusher
Silica Sand Crusher in Silica Sand Crushing plant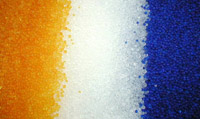 In silica quarry, it's important to choose right crushing equipment and grinding equipment for silica pulverization. Usually this is the essential procedure before the silica being processed in the dressing.
Here we can provide you with silica crusher, such as jaw crusher for primary crushing, cone crusher and impact crusher for secondary crushing and tertiary crushing. Apart from silica crushing equipment, there are grinding machine for further grinding. If you need a complete silica crushing and screening solution, please tell us the exact info about your raw materials, such as input size, and your desired capacity. We will design special silica crushing plant according to your situation.
Silicon is the second most common element in the Earth's crust, comprising 25.7% of the Earth crust by weight. It is shiny, dark gray with a tint of blue. Silicon is never found in its natural state, but rather in combination with oxygen as a silicate ion (SiO4) in silica-rich rocks such as obsidian, granite, diorite, and sandstone. Feldspar and quartz are the most significant silicate minerals. Silicon alloys with a variety of metals, including iron, aluminum, copper, nickel, manganese and ferrochromium.
Silica which is the chemical name of quartz and a synonym for silicon dioxide is widely used in manufacture of special steels and cast iron, aluminum alloys, glass and refractory materials, ceramics, abrasives, water filtration, component of hydraulic cements, rubber reinforcing agent, etc.