Iron ore Mining Processing
Iron ore crushing is actually the preparation process that are needed for decreasing the size of iron ores during all iron ore processing technology ....

Limestone Quarry Plant
In the limestone crushing plant, there are hammer crusher and impact crusher for big abridgement ratio ...For the limestone grinding equipment, Ball mill,raymond mill is common.
Copper Beneficiation Processing
In copper ore processing plant, crushing process is the important process. In this copper ore crushing plant, several crusher machines are used ...
Belt Conveyor Introduction
The conveyors consist of standard parts, which are advanced and simple in structure, easy to maintain. Our vibrating equipment is adaptable for stationary and mobile crushing plants. They are widely used in mining, metallurgical and coal industry to transfer sandy or lump materials, or packaged materials. According to different transferring equipment, the transfer system can be one independently or multi-conveyors or combined with other transfer equipments.
Online Chat For Product Information And Price.

Recommendation Index :
Advanced,Simple in Structure,Easy to Maintain
Belt Conveyor Features and Benefits :
The belt conveyors produced by SBM can be operated in the temperature situation ranging from -20℃ to +40℃. The temperature of transferred material by this belt conveyor should be lower than 50℃.The types of the belt produced by SBM are as follows:
1. Devided by Driving Method:
a. STD-Mechanical Drive:It's driven by cycloidal pinwheel reducer (with outdoor motor ) and chain-drive mechanism.
b. STDJ Ⅱ Mechanical Drive Series.It adopts upside-down and belt-drive mechanize.
c. STD-Electric Rotor Drive Series:It's driven by electric rotor.
2. Divided by Installation Methods
a. Fixed Series:It's directly installed on foundation.
b. SDY-Portable Series:It can be easily and freely moved and the capacity can be adjusted.
3. Divided by Structures:
The belt conveyors produced by SBM have three different structures.
a. U-steel b. Frame c. Truss
NOTE:
There are two kinds of conveyors, one equipped with repairing walkway while the other without. When ordering the machine, the customers should give us clear instruction.

Working Principle
Specifications
Inquiry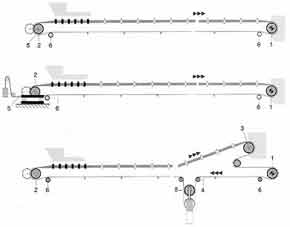 Designed for ease of maintenance, including simple blade replacement and reduced frequency of re-tensioning, Belt conveyors are available with either rollers (roller belt) or a solid surface (slider bed) to support the carrying belt. When the materials fall down on the conveyor, the roller under the belt will drive the belt come forward. In this way, we convey the stuff.
Belt conveyors can be used to transport product in a straight line or through changes in elevation or direction. In certain applications they can also be used for static accumulation or cartons. Generally, this philosophy calls for belt cleaners that are: As far forward (as close to the conveyor discharge) as possible. Positioned out of the material flow. Designed to minimize risk to belt, splice, and cleaner itself. Designed to stand up to "worst case" conditions.
Customer Reviews :
Daniel
Nairobi, Kenya
Level of expertise:
Expert
Chinese belt conveyor,excellent.
A cheap belt conveyor(alway easily broken, usually) is a pain. They stay broken when you anxious about your mining business.A high quality belt conveyor makes a huge difference. It sounds trivial, but it really makes managing your besiness easier.A high quality belt conveyor like this one makes it easy.
My belt conveyor line have been in service for a long time and are tough enough to last for many more years.
I also appriaciate the fact that it's made in China.
Product Uses:Cement grinding plant
Jabari
Huambo, Angola
Level of expertise:
Expert
It's great.
This was the first accessory I purchased for my gold mining line. It's great.
Product Uses:Gold mining
Kabir
Hyderabad , India
Level of expertise:
Good
Really cheap.
For the money, this belt conveyor is tough to beat. The capacity is great. The setup process was easy. The belt conveyor put into use immediately.Pretty good so far.
Product Uses:Marble quarry plant
Ayobayo Abiodun
South Africa
Level of expertise:
Good
Hoping it is working well.
We have only had the belt conveyor for a few days.I bought the whole iron ore production line,It has been good so far, just a few difficulties with getting the position correct.
I am excited to own the whole production line and hope it works everything I am hoping it is still going strong a few years later.
Product Uses:Iron ore beneficiation plant
Ferran
Saudi Arabia
Level of expertise:
Good
Great !
I purchased this in a production line with jaw crushers and CS Series Cone crushers. This is a great conveyor, good length, and flexible. It is stout enough not to kink but will bend easily around corners.
Product Uses:Granite quarry plant
Frequently Questions :
Q: "Please help me to analyze of belt conveyor and processing deviation, I have this problem"
A: Running belt conveyor belt deviation is the most common failure. Failure to address these priorities in mind that the dimensional accuracy and the installation routine maintenance. Deviation due to a combination, to be based on different treatment for different reasons. You can Aligning idlers installed, adjust the carrying roller group, we suggest you contact us online, to solve your problem.
Q: "How the belt conveyor coordinate with crushing grinding machine in processing plant?"
A: Our belt conveyor is adaptable for stationary and mobile crushing plants, is widely used in mining, metallurgical and coal industry to transfer sandy or lump materials, or packaged materials.