Granite crushing machine
Granite crusher machine
Granite is an igneous rock that forms when magma cools slowly beneath the earth's surface, forming large, easily visible crystals of quartz , feldspar, and mica. Scientifically, an intrusive (plutonic) igneous rock must contain between 10% and 50% quartz to be classified as granite, but other similar stones such as gabbro, diabase, anorthosite, sodalite, gneiss, basalt are sometimes .
We provide jaw crusher,CS Series Cone crusher,impact crusher,mobile crushing plant for granite crushing plant.
Jaw crusher for granite crushing :You can choose our jaw crusher as primary crushers for your granite crushing plant.jaw crusher can process raw materials with capacities varying from 1-1000t/h. their output size can be 10 - 300mm,compression strength is less than 320Mpa.
CS Series cone crusher for granite crushing :CS Series cone crusher is suitable for secondary, tertiary and fine crushing stages. with capacities varying from 27 - 559t/h. their output size can be 3-64mm.
For more information of Granite crusher,select from left product list,or get support online.
Granite crushing plant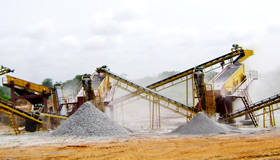 A whole granite crushing plant always need jaw crusher as primary crusher,cone crusher or impact crusher as secondary and fine crusher, vibrating feeders for granite blocks feeding into jaw crusher,belt conveyors transport crushed granite ,vibrating screens for crushed granite screening,our granite crushing plant capacity varying from 40-1000t/h. and our Granite crushing machine has been exported 167 countries.