Manganese Ore Crusher
Manganese ore crushers
Manganese is named from a corruption of the latin word for magnestism; magnes, in allusion to its prinicple ore's magnetic properties. However, manganese crystals have yet to be found in nature and therefore it is technically not a mineral, although laboratory grown specimens can look like a natural stone.
Over 80% of the known world manganese resources are found in South Africa and Ukraine. Other important manganese deposits are in China, Australia, Brazil, Gabon, India, and Mexico.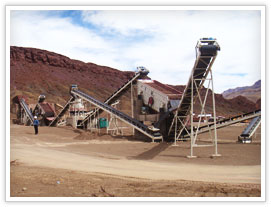 Steel becomes harder when it is alloyed with manganese. It has similar applications when alloyed with aluminum and copper. Hardened steel is important in the manufacture of construction materials like I-beams, machinery, and transportation.
When you want to crush the manganese ore into different types of size, you can use SBM crusher. The jaw crusher, impact crusher, cone crusher, vsi crusher, mobile crusher may be used.
If our customer wants to extract the manganese ore or make them smaller, it must use the grinding mill, such as trapezium grinding mill, SCM ultrafine grinding mill, ball mill, raymond mill, MXB coarse powder mill.