Filtration equipments
Home
>
Filtration equipments
There are several steps in mining beneficiation processing : crushing, grinding, classification, and magnetic separation, filtration and concentrate.
SBM is professional mining and construction equipments manufacturer, we provide the whole mine beneficiation line design and equipments. whatever you need for mining or construction industry,please contact us. this webpage we introduce two of our filtration equipments .
Tube press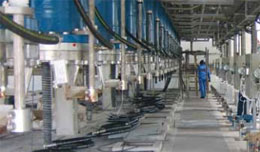 The tube press is a membrane type filter press designed in cylindrical format and capable of operating at high filtration pressures up to 100 bar. The use of these high pressures enables a higher degree of separation of the liquid and solid phases.
The tube press is suitable for the following applications:
• Where the process requires very low cake moisture eg. smelters
• Where cake handleability is critical. e.g. underground slimes
• Where filtrate is a valued product
• Where cake transport costs are significant
• Where cake is to be disposed of to landfil
Drum vacuum filters
Vacuum filtration is a well established technique used in industrial dewatering. SBM Minerals has successfully delivered and installed many hundreds of rotary vacuum filters covering a wide field of applications.
The range of rotary vacuum filters incorporates two basic design principles:
The SBM Minerals filters are specially designed for high vacuum operation allowing very high air flowrates.
This results in :
– Higher capacities
– Lower cake moisture
– Extended application rang