Gypsum powder machinery
Crushing and Milling Section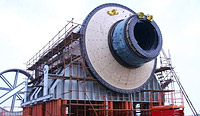 Gypsum ores are put into the hopper from stock ground by the forklift driver, then they are crushed into small size less than 20mm by the crusher( we provide jaw crusher, impact crusher for gypsum ore crushing), and then elevated into the mill by elevator to be milled into qualified raw gypsum powder (that is dehydrate gypsum),we provide ball mill,raymond roller mill,Vertical roller mill, MTM Trapezium mill for gypsum powder production.
Gypsum powder production line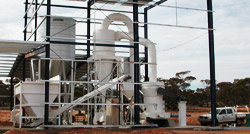 Gypsum Powder Production Line (natural gypsum) adopts civil advanced process and equipments like MTM trapezium mill, of which MTM trapezium mill is the most widely used calcining equipment at present in Gypsum powder production line with the advantages of small size, fine producing capacity, simple structure, small occupied areas, low energy consumption, convenient operation, automatic control, good quality, ideal phase composition, steady physical performance and low investment, etc.. It is widely used into calcining process of natural gypsum and chemical gypsum and has been sold to Thailand, Uzbekistan, Columbia, Mexico and etc.
At present, we can design and produce various productions lines with capacity from 3 tons per hour to 500 tons per hour. Meanwhile, we can also provide different production processes which are tailored to customers' requirements. We also provide package of services to our customers from engineering design, equipment manufacturing, installation, commissioning, personnel training to production, named as turn-key project.