Iron ore Mining Processing
Iron ore crushing is actually the preparation process that are needed for decreasing the size of iron ores during all iron ore processing technology ....

Limestone Quarry Plant
In the limestone crushing plant, there are hammer crusher and impact crusher for big abridgement ratio ...For the limestone grinding equipment, Ball mill,raymond mill is common.
Copper Beneficiation Processing
In copper ore processing plant, crushing process is the important process. In this copper ore crushing plant, several crusher machines are used ...
Hydraulic cone crusher Introduction
Hydraulic cone crusher with high-efficiency and hydraulic pressure was widely used in mining, concrete factory, sandstone making, etc. The machinery's pressure resistance strength is under 350Mpa.
And they are widely suitable for primary crushing of many kinds of mining and rock such as many kinds of ores, concrete, fireproof material, bauxite, quartzite, corundum, perlite, ironstone, basalt, etc.
Online Chat For Product Information And Price.

Recommendation Index :
High Efficiency and Hydraulic Pressure
Hydraulic cone crusher Features and Benefits :
The new series of HPC cone crusher with high-efficiency and hydraulic pressure equipment is adopted three protecting equipment such as protecting oilcan, locking oilcan and hydraulic driving oilcan.
They not only protect the machinery, but could deal with troubles without disassembly the parts.
1. HPC series hydraulic pressure cone crushers has a better performance compared with spring cone crusher. Hydraulic cone crusher also can adjust the size of final material.
2. The crushing chamber specially designed according to particles sink principal and its matching speed can sharply increase the crushing ratio, output and content percentage of cubical product in final crushed material.
3. In the special circumstances such as irons was feed into the crushing chamber together with the materials and there is a jam in the crushing chamber, the hydraulic equipment could open the cover automatically, then the products could output successfully. It greatly reduced the trouble of stopping the machine to output the products artificially. Which makes the maintenance more convenient and with low cost.
4. The HPC hydraulic cone crushers is adjusted by hydraulic device and lubricated by the dilute oil. And with locking sleeve assembly, it can overcome the trouble of oil and water being mixed together. .
5. The concave and mantle made by high manganese steel. Owing to the change of the concave's style and the protect of the crushed products, The abrasion of the machine is reduced greatly and can last long compared with the old cone crusher.
Working Principle
Specifications
Inquiry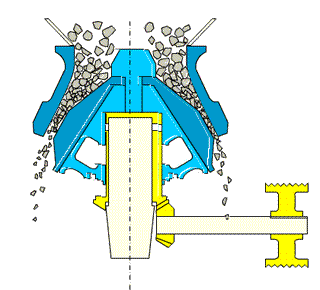 HPC cone crusher mainly consists of main parts , eccentric shaft sleeve,main shaft assembly , support sleeve assembly,moving cone assmbly,fixed cone assembly etc.
The motor drives eccentric sleeve through v-belt,transmission shaft,bevel gear.The moving cone wings with the force of eccentric shaft sleeve so that the crushing surface is close to the mortar from time to time.In this way,the materials will be crushed through continuous pressing,and the crushed materials will be discharged the discharge opening.
Customer Reviews :
Halsey
Kampot , Cambodia
July 25,2011
Level of expertise:
Expert
Great value and meets expectation
I have found this to be an outstanding product for the price point. All expectations are met. I have this running on a 100t/h feldspar crushing plant. The cone crusher working quite well.
For this price point (after all everyone keep it in perspective) I don't see how you can go wrong.
Product Uses:feldspar crushing plant
Vinod Kumar
India
July 16,2011
Level of expertise:
Good
Good services
SBM quality & services are good to customers fullest satisfactions.
Product Uses:Marble quarry plant
Munandar Tanjung
Indonesia
June 17,2011
Level of expertise:
Good
Good products
The hidrolik cone crusher is in good condition,and easy mantaince.Good service and good products. 2. Herdianto:pelayanan bagus sekali
Product Uses:Limestone crushing plant
Raeburn
Saudi Arabia
May 20,2011
Level of expertise:
Good
Great Crusher
For the price you can't beat this cone crusher. I bought 2 of them set up as dual cone crusher for a limestone quarry production line. I highly reccomend this cone crusher.
Product Uses:Limestone crushing plant
Jack
Pahang , Malaysia
May 4,2011
Level of expertise:
Expert
It's a good equipment.
Very nice capability, efficient.
Product Uses:Gold grinding processing
Frequently Questions :
Q: "What kind of rock can use hpc cone crusher to process?"
A: The HPC cone crusher is suitable for crushing materials with protodrakonov scale of hardness f<=5-16 in medium and fine crushing, like iron ore, non-ferrous metal ore, granite, limestone, aposandstone, sandstone, cobble stone and so on.
Q: "How to maintain cone crusher, ensure machines working normal?"
A: Always pay attention to the tensioner degree of the v-belt, adjust them in time, always check the fastness of fasteners… Shibang machinery supply the improving after-sales services, if you have some issue to solve, you can contact us.