Gold processing plant
Gold prosess machinery
There are always two important steps in gole ore processing plant,first step is crushing process. In the gold ore crushing process, jaw crusher is used as primary crusher,may be impact crusher or cone crusher used as secondary crusher, After crushing process,The crushed gold ore transported by belt conveyor and sent into grinding mill for Gold mill processing. Ball mill is essential gold ore beneficiation machine used in Gold mill processing to grind gold ore into powder less than 200 mesh. Gold ore powder go through classification and flotation to make pure gold.

Gold mill processing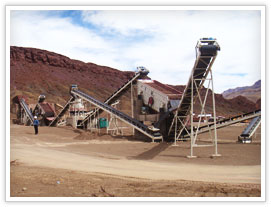 Gold mill process has an important role in gold mining industry.We have ball mill,lm vertical roller mill,raymond roller mill,and SCM ultrafine mill,the final powder could be 2.0 mm ~ 2500 meshes. you can contact us to get best gold mill plant.
Although there are many more advanced gold ore mill, but ball mill still was the most widely used milling machine in gold ore mill process,in gold mill process ,ball mill to reduce the particle size down to around 0.2 mm. In this process the finely ground ore is mixed in tanks with certain chemicals that selectively attract the wanted particles .
Gold crushing processing
Gold crushing process at least includes two step : primary crushing and secondary crushing.
In gold ore primary crushing process, jaw crusher is mainly used to crush gold ore into smaller blocks.Our jaw crushers with capacities varying from 1-5t/h to 400-1000t/h,and the output size can be 10~40mm to 150~300mm. since jaw crusher is a improtant role of primary crushing machine in the whole gold crushing processing plant.
In gole ore secondary crushing process, cone crusher or impact crusher is used as gold ore crusher. we have four types of cone crushers, they are spring cone crusher, CS Series Cone crusher, hydraulic cone crusehr and hcs90 cone crusher,and two types of impact crusher : PF IMPACT CRUSHER,PFW IMPACT CRUSHER.their capacities varying from 27-91t/h to 454-1000t/h. their output size can be 3~13mm to 31~64mm.