Concentrate equipments
Home
>
Concentrate equipments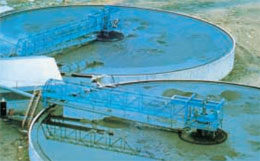 SBM Concentrate equipments are designed for continuous 24 hour per day operation in chemical, industrial mineral and ore processing industries. Units are supplied in two basic confi gurations: bridge or centre pier mounted in diameters from 5 to 75 m.
Lift Mechanism
For bridge mounted drive heads rake lift is through a torque tower which is bolted to the main wheel and drives the rake shaft through a keyway. The rake shaft is raised and lowered by a motor driven screw jack.
For centre pier mounted drive heads, the drive head is supported by a pier and drives the rakes through a torque cage. The drive head and rake torque cage are raised and lowered by motor driven screw jacks
Controls
Operating torques are continually monitored.
A motor torque sensing device which accurately measures the motor power, provides preset overload outputs, rake lift, warning, and shutdown.
The lift mechanism is fully auto matic and is activated by the torque sensing system.
All controls are located in a weather proof enclosure mounted on the bridge. Rake torque is locally displayed and automatic - local operation can be selected for drive and lift motors.
The complete range of SBM drive heads is available as both lift and non-lift designs. Rake height indication and remote indication of rake height and rake torque are availabl
Applications
SBM Concentrate equipments have been installed for a wide variety of duties, typical examples include:
• Coal benefication
• Magnetite fines
• Kaoline benefication
• Copper concentrates and tailings
• Gold/Silver concentrates and tailing