Attrition Scrubber
Home
>
Attrition Scrubber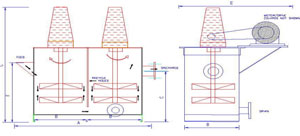 Propellers
The Helix propeller is very effective in providing the vertical and radical forces for maximum scrubbing. Two six-bladed propellers are mounted on each shaft to provide opposed pumping forces. One propeller has slightly greater blade pitch than the other, which causes the pulp to be pumped from cell to cell.
Flow alternates introduction to the cells by way of over and under openings in the baffles between the succesive cells eliminating short circuiting.
The propeller design eliminates destructive cavitating action, which provides extended wear life. Nonetheless, in many applications the degree of wear expected makes it necessary to use special materials. While cast iron propellers are often specified, and for highly abrasive or corrosive duties, coverings, such as rubber and neoprene are specified for props and shaft .
Specifications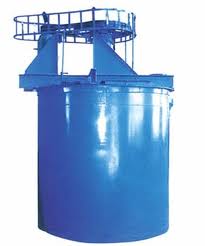 Tanks are welded mild steel construction, lined with rubber or neoprene, have a feed box and flanged discharge and drain outlets.
Multiple cells may be furnished as 2 cell units (closed flow design) with a flanged discharge between the second two units. Alternatively, the attrition scrubbers may be configures in the standard method (open flow), with cells in line and flow between the cells.
Gear reducers provide the ideal speed for each diameter propeller and are totally enclosed and running in oil design.
Propeller assemblies are comprised of opposed axial flow propellers covered with rubber or neoprene, permanently fixed to a shaft, also covered with rubber or neoprene. V-belt drives are of a fixed speed, however by changing the pulleys, varying speeds may be achieved. Drive guards are closed type guards.
Motors are totally enclosed fan cooled, with standard electrical requirements of 230 V, 380 V, 460V/3 Ph/50-60 Hz and are mounted on supporting superstructure.
All units are prepared and painted with one coat of enamel. Attrition Scrubber Units are shipped completely assembled.