Iron ore Mining Processing
Iron ore crushing is actually the preparation process that are needed for decreasing the size of iron ores during all iron ore processing technology ....

Limestone Quarry Plant
In the limestone crushing plant, there are hammer crusher and impact crusher for big abridgement ratio ...For the limestone grinding equipment, Ball mill,raymond mill is common.
Copper Beneficiation Processing
In copper ore processing plant, crushing process is the important process. In this copper ore crushing plant, several crusher machines are used ...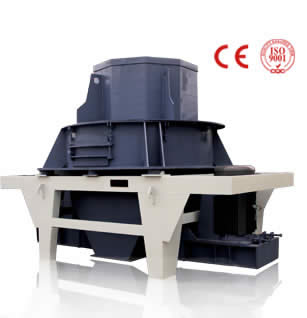 Vertical Shaft Crusher Introduction
Vertical Shaft Impact Crusher is applied widely for the powder process of mineral product including mental and non-metay ore, fireproof material, bauxite, diamond dust, glass raw materials, archtiectural materials, artificial sand and all kinds of metal ore materials, especially which has more advantages than any other machines in processing the more and most hard materials.
Online Chat For Product Information And Price.

Recommendation Index :
Simple structure ,low cost
Vertical Shaft Crusher Features and Benefits :
1. Simple structure ,low cost
2. High efficiency and low consumption
3. Primary and second crushing capacity
4. More naf most hard materials can be crushed
5. Cubic shaped fina product
6. Little noise and dust pollution
7. Conveniengt performance ,maintenance,installation
Working Principle
Specifications
Inquiry
The Whole PCL certical impact crusher including feed hopper, classifier, whirl pool cacity, impeller, main bearing assembly base, transmission device and motor etc. Operating pinciple is as follows: the materials enter the crusher through feeder hopper, which is divided into two parts, one part through the middle of classifier entering into the rotating impeller at high speed, then accelerated, whose speed can reach hundreds of acceleration, then is shot through the tunnels around the impeller by the speed of 60-75 meter/second. First the materials will impact with some materials fallen around classifier, then impact on the whirlpool cavity's scaleboard together, then will be rebounded and impact on the top of the whirlpool cavity, then changs its direction and goes down, forms continual material layers with the materials shot from the impeller. Therefore some materials will be impacted, crusher, milled twice or more times in the whirlpool cavity, then crushed matetials will be excluded through the bottom discharginghole. This can from a closed circulation through the circular classifier system; in general, materials can be crushed into 20 mesh through thrice circulation. Airflow self-circulation in the whirlpool cavity can eliminate the dust pollution well.
Frequently Questions :
Q: "Can you introduce the application of vertical shaft impact crusher?"
A: In this page, we list the vertical shaft impact crusher features and benefits, according it, vsi crusher is widely used in the crushing of artificial sand, stone and various construction sand, stone and a metallic slag, it has the advantage and high efficiency than other type crushers that in the crushing of medium and super hardness materials.
Q: "Why the bearing of vsi crusher spares parts produces hot?"
A: The reason may be the bearing is damaged, lack of grease or dirty, it's common trouble, we can replace the bearing, add grease, connect cooling water, or you can contact us.