Stone Crushing Plant With Capacity 200-250 TPH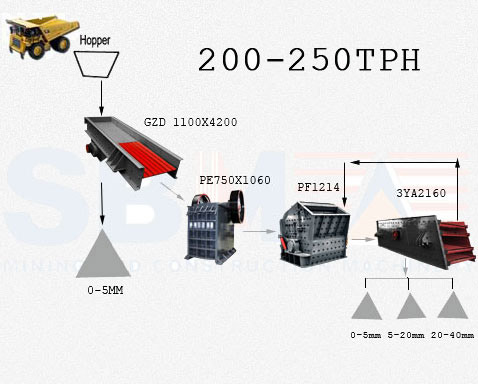 This production line is kind of large rock crushing plant with capacity 200-250 tph. Raw materials are feed by vibrating feeder in to jaw crusher PE750*1060 whose capacity can be up to 130-260 tph. Also you can choose our jaw crusher PE900×1200 whose capacity can be up to 220-500 tph. Secondary crushing equipment is impact crusher PF1315 whose capacity is 160-260 tph. PFV-1315 with capacity 150-300 can also be used as secondary crushing equipment. Vibrating screen is also used for screening materials with different sizes.
In lots of large-scale quarry mining crushing production line, you can use this crushing plant. By improving the model of core crushing equipment and auxiliary equipment, you can get a production line with higher output. This crushing plant can be widely used to crush basalt, granite, diorite, gabbro, anorthosite, peridotite, sandstone, Limestone, dolomite, flint, etc.

Solutions
Successful Cases