Sand making process flow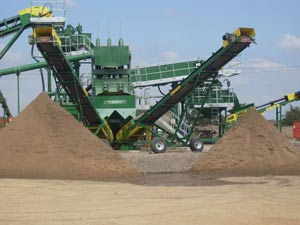 The raw materials are first put into elementary-crushing machine (jaw crusher) via vibrating feeder for crush, and then the elementary products are transferred via the belt conveyor to the secondary-crushing machine (cone crusher) for secondary crush. The vibrating screen separates the secondary products into two kinds. The one satisfying the standard of the Vertical Shaft Impact Crusher (sand-making crusher) will be conveyed to the sand-making machine and become finished products after being washed by the sand washing machine. The other kind will return to the secondary-crushing machine to be crushed again.
When the input size of your materials is smaller than 40mm, we recommend you the sand making flow equipped with VSI5x series sand making machine, vibrating screen, sand washing machine, etc; otherwise, there is another solution designed for you, equipped with vibrating feeder, jaw crusher, impact crusher (optional), cone crusher, VSI5x series sand making machine, vibrating screen and sand washing machine.
Main equipment of sand making plant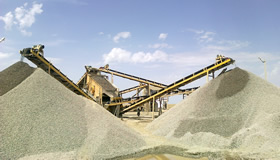 The sand-making production line offered by SBM, featuring with high automatization, low operation cost, high crushing ratio, low pollution, high capacity and low power consumption, can provide you with all-around technical support, and after-sales service of high quality. The size of the finished product is even and in good shape, and can meet the national sand-making standards and various specific requirements.
The wholeline consists of the following equipments:
Vibrating feeder, Elementary-crushing machine: Jaw crusher, Secondary-crushing machine: Cone crusher, Sand making machine: Vertical Shaft Impact Crusher, Sand washing machine, Vibrating screen, Belt conveyor
Application of machine-made sand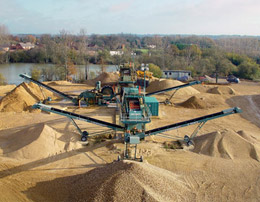 Sand is the largest consuming construction material for buildings, highways, metallurgy, concrete, cement, glass, ceramics, paper industry, and petrochemical industry. Sand generally includes natural sand and machine-made sand. However, natural sand, river sand could not meet the increasing demand in some countries and regions, especially in southwest China. Meanwhile, over-exploitation of natural sand will undoubtedly damage the environment. Thus, the substitution of machine-made sand to river sand has become a steady tendency.
At present, machine-made sand has been applied in mortar, concrete and masonry blocks. We have exported sand making machines to Asia, America, Europe and Africa, particularly in places such as Australia, Indonesia, Chile, Venezuela, Kazakhstan, Kyrgyzstan and so on.