Iron ore Mining Processing
Iron ore crushing is actually the preparation process that are needed for decreasing the size of iron ores during all iron ore processing technology ....

Limestone Quarry Plant
In the limestone crushing plant, there are hammer crusher and impact crusher for big abridgement ratio ...For the limestone grinding equipment, Ball mill,raymond mill is common.
Copper Beneficiation Processing
In copper ore processing plant, crushing process is the important process. In this copper ore crushing plant, several crusher machines are used ...
CS Series Cone Crusher Introduction
Comparing with other kinds crusher, CS Series Cone Crusher have excellences for fine crushing,CS series cone crusher was widely used in mining, concrete factory, sandstone making, etc. And they are widely suitable for primary crushing of many kinds of mining and rock such as many kinds of ores, concrete, fireproof material, bauxite, quartzite, corundum, perlite, ironstone, basalt, etc.
Online Chat For Product Information And Price.

Recommendation Index :
Widely used in mining, concrete factory
CS Series Cone Crusher Features and Benefits :
1. The cone crusher is of high performance
2. High stability and reliablity if you choose cone crusher expert
3. Easy cavity dumping
4. Easy maintenance and easy operation
5. Low cost and wide application for China cone crusher
Working Principle
Specifications
Inquiry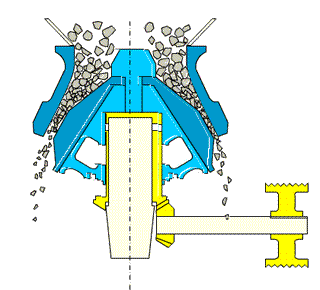 CS Series Cone Crusher is the earliest cone crusher, and also the most widely used cone crusher in the world today. The improved and refined CS Series Cone Crusher owns a more reasonable structure and more advanced technocal parameters. China cone crusher has excellent performance in manufacturing, installation, use and maintenance.
CS Series Cone Crusher is widely applied in cement making industry, building, sand making, metallurgical industry, etc.It is suitable for both metallic minerals and non-metallic minerals, such as iron ore, nonferrous metal ore, granite, limestone, quartzite, sandstone, pebble, etc. Illustration of How CS Series Cone Crusher crush through a horizontal axle and a pair of bevel gear, the motor drives the eccentric sleeve to revolve. The revolution of the eccentric sleeve makes the mantle move towards to the bowl liner from time to time. In this way, the ores and rocks will be pressed and finally crushed.
Frequently Questions :
Q: "According the working principle of this series cone crusher, what's issue should I need to pay attention during the operation?"
A: Attentions during operation-ores must be in the center of feed plate which is CS series cone crusher spares parts, direct feeding to the crushing cavity is not allowed, because direct feeding is likely to bring overload of crusher, and cause uneven abrasion of lining plate, the maximum feeding size can not equal to crusher feed opening size.
Q: "What are the CS series cone crusher's specific installation steps?"
A: With the machines, we will sent the instruction, this instruction only includes the special installation instruction for this machine; other installation details can follow general machine installation rules.