Basalt stone crusher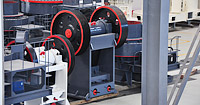 Jaw Crusher is one of the main types of primary crushers used in stone quarrying or mine ore crushing process and also is one of the most widely used crushing equipments in mining industry. The crushing ratio of this series of jaw crusher can reach 4-6 and the shape of final product is even and fineness is 10mm - 40 mm. The capacity of small jaw crusher is from 1 t/h- 5 t/h, while the large scale jaw crusher is 200 t/h - 1000 t/h. Because it is primary crusher, Jaw crusher is designed for long life service with minimum maintenance for hard, tough, abrasive material and overload high capacity.
Impact Crusher is a new stone crusher machine that absorbs advanced technologies at home and abroad. Dealing with the material with the side length 500mm, not more than 350Mpa anti-pressure strength, Impact Crusher can be widely used in the primary and secondary crushing process. SBM is a expert of impact crusher manufacturer in China. The impact crusher designed by us is characterized by great reduction ratio, high reduction efficiency, convenient maintenance, etc, and the final product is in the shape of cube.
Cone crusher is the earliest cone crusher appearance in the world, and they are used widest and larger quantity crusher machine at present. With the improvement of the series of cone crusher, their structure is more perfect and the technology parameter is more advanced, so this series of cone crusher have excellent performance in the aspects of manufacture, installation, use and maintenance etc. Type of the crushing cavity is decided by the application of the ores. The standard cone crusher is used for intermediate crushing; the medium cone crusher is used for fine crushing; and the short head spring cone crusher is used for super thin crushing.