Coal Crusher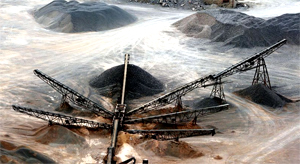 Coal crusher is the main crushing machine used in coal crushing plant. Coal crushing plant consist of many types of crushers, vibrating feeder, screen and grinding mills. Coal crushing equipments include jaw crusher, impact crusher, cone crusher hammer crusher and mobile crusher etc. Vibating feeder, screen and washing machine are also the coal processing equipments. These complete coal crushing plant produce small coal particles for further grinding process.
Stationary coal crusher plant use jaw crusher as coal primary crushing machine, impact crusher used as coal secondary crusher. Cone crusher is used as fine coal crushing machine. These crushes makes up stationary coal crushing plant.
Mobile crushing plant is the portable coal crushing unit, it including crushers, belt conveyor, vibraitng feeder and vibrating screen. Coal washing machine is a cleaning equipment, it is used to remove dust, clay and other unwanted materials.
Coal crushing plant working process
Coal crushing can be divided into two categories according to their position in the production system such as crushing preparations and finally crushing. Crushing preparations work for the next operational requirements of the particle size for crushing operations; finally broken coal is broken to the required size of the operation of commercial coal. Coal crushing commonly used mechanical method. In a variety of crushing machines of coal, we often dominated by a kind of broken way, accompanied by other fragmentation methods.
There are two coal crushing operation systems: open systems and closed-circuit crushing system. Open crushing system is used on the product's size is not strictly required, or crushed when the situation does not produce too large, while closed-circuit crushing system called loop crushed system, broken product for less than the specified size must be strictly guaranteed, while the crusher machine itself cannot meet this requirement of the situation. Crushed in the closed-loop system, the crushed product to check through the screen, screen then return to the coal crusher, until through the screen so far.