Coal mining equipment
Coal mining equipment
In the coal mining plant,Coal block crushed by coal mining crusher so that it can be easily handled and processed. The price of coal crushing equipment is lower than other company's. SBM coal mining plant is famous in coal mining field since long time ago and gives smooth running resulting power economy and higher efficiency. For the Mohs hardness of coal is usually under 5, the miners can use jaw crusher, PFW jaw crusher, hammer crusher, impact crusher, and hydraulic impact crusher etc. to handle it.
After the coal has been crushed by coal crusher, we need vibrating screen to grade the coal by size and then transport the coal via belt conveyor. In this process, dewatering screen is optional to remove water from the product. More about working details about coal crushing plant.
Clean Coal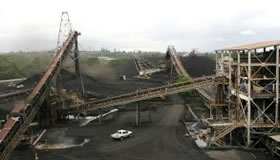 Clean coal solutions can be divided into three categories based upon the stage of energy production: pre- combustion, conversion and combustion, and post-combustion. U.S. suppliers enjoy good prospects in all three categories. Pre-combustion: advanced and energy efficient coal-mining equipment, coal blending, coal screening and scrubbing. Conversion and combustion: coal liquefaction, gas-turbine technology, Integrated Gasification Combined Cycle (IGCC), Ultra Supercritical Power Generation (USPG), Underground Coal Gasification Combined Cycle (UCGCC). Post-combustion: Carbon Capture and Sequestration (CCS), Flue Gas Denitration (De-NOx), Flue Gas Desulphurization (De-SOx), Particulate Matter (PM) removal.
Coal mining plant
The development of a coal mine includes construction of roads, utility line connections, and the coal mine plant. Depending on the amount of coal produced and where it is to be used, construction of a railroad spur may be required. Access to coal deposits at a surface operation involves the use of large equipment such as bucket-wheel excavators, draglines, and shovels to remove overburden from the coal so extraction can begin. The big coal block should be send to coal crusher to crush into smaller or send to coal mill for grinding into fine powder. As mining progresses, development consists mainly of extending paved roads and power lines, and constructing new roads for access to the coal deposit.