Iron ore Mining Processing
Iron ore crushing is actually the preparation process that are needed for decreasing the size of iron ores during all iron ore processing technology ....

Limestone Quarry Plant
In the limestone crushing plant, there are hammer crusher and impact crusher for big abridgement ratio ...For the limestone grinding equipment, Ball mill,raymond mill is common.
Copper Beneficiation Processing
In copper ore processing plant, crushing process is the important process. In this copper ore crushing plant, several crusher machines are used ...
Crushing-type mills Introduction
Efficient crushing-type mills are widely used in metallurgy, mining, chemical, cement, coal gangue, construction, sand, refractory material, ceramic and other industrial and mining enterprises, engaged in breaking and crushing the material in the operation. It is mainly suitable for crushing various soft and hard ore. whose compression strength is not higher than 320MPa (MPa).
Online Chat For Product Information And Price.

Recommendation Index :
SBM New Product
Crushing-type mills Features and Benefits :
1. High production and high crushing ratio.
2. Low power consumption, homogeneous particle size.
3. Simple, compact and light mechanical structure.
4. Low investment cost, easy management.
Working Principle
Specifications
Inquiry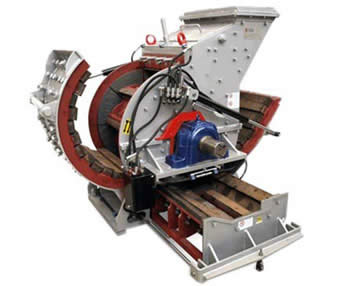 Efficient crushing mill consists mainly of frame, rotor, hammers and grizzly bars and other components. The frame includes upper part and lower parts, which are welded by steel plates after cutting, the remaining parts bolted into one. High manganese steel liners are studded with inside the frame, to facilitate replacement for a new liners after worn; on the main shaft are installed several groups of the spindle distribution of the hammers, which consists of rotor with the axle of hammers and rotary table. The host drives the main shaft through the motor and V-belt driven spindle to rotate the rotor, generating the centrifugal force, then driving all hammers stretch around. The bulks of material feed into the crushing chamber, will be crushed by the hammers at a high-speed movement. The broken material requested will be passed the grizzly bars at the lower part and discharged, the unbroken rest will be left in the chamber to be crushed repeatedly by the hammers and iron plates until it can reach the requested standard. To avoid clogging, the water content of the material to be crushed not more than 5%.