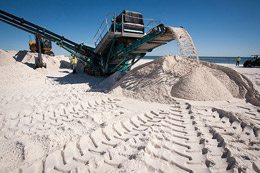 Concrete is one of the major materials in contemporary civil engineering. It is kind of artificial stone mixing cementing material, aggregate and water by a certain percentage molding by vibration and conserved under certain conditions. Concrete is of lots of features, such as rich raw materials, low cost, and simple production technology, etc., which thus increasing their consumption. At the same time concrete is of high compressive strength, durability, wide range of strength grade. Therefore, concrete is not only used in a variety of civil engineering, but also is the important materials in the shipbuilding, machinery, marine development, geothermal projects.
According to the types of cementitious material, concrete is divided into: ① inorganic cementitious material concrete, such as cement concrete, gypsum concrete, silicate concrete, silicate concrete, etc.; ② organic cementitious material concrete, such as asphalt concrete, polymer concrete, etc.
Portable Crushing and Screening Plant for Concrete
Portable crushers are being used in site where requires more flexibility and transportation. The portable crusher plant can eliminate obstacles caused by location, environment, and foundation configuration; consequently provide simple, efficient, low-cost crushing solution.
Concrete crushing equipment
Jaw Crusher: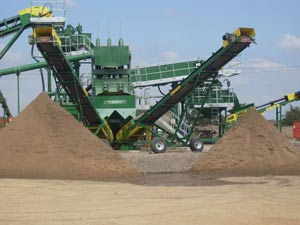 Jaw crusher is popular primary crusher around the world which can reach the crushing ratio of 4-6 and the shape of final product is even. SBM jaw crusher is designed to handle reinforced materials apart from iron ore crushing.
Cone Crusher:
Cone crusher is of lots of features, such as stable structure, high efficiency, easy adjustment, economic operation, etc. SBM cone crusher is suitable to crush various kinds of ores and rocks of medium or above medium hardness.
Impact Crusher:
For even, cubic final products, you can choose SBM Impact Crusher for tertiary crusher or secondary crusher. In portable crushing and screening plant, impact crusher is often installed as core concrete crushing equipment.
SBM Will Provide You with Concrete Crushing Plant
SBM provides demanding solutions for selected customer processes in quarry mining. For over 20 years we have developed, manufactured and marketed crushing equipment and solutions for minerals or stones quarry mining.