Granite Pulverizer Equipment
Granite Pulverizer Equipment(Jaw Crusher)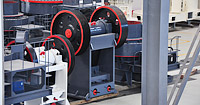 You will need some primary crushing equipment in your granite quarry porduction line. You can choose our jaw crusher as primary crushers. It's so important to select the correct crusher for each reduction stage that we strongly recommend to you our jaw crusher. Also, you can always use jaw crusher as the most cost effective alternative.
Granite Pulverizer Equipment(Impact Crusher)
Impact Crusher is our improved product. Its biggest advantage is as follows: the product is of cubic shape without crack. The machine is of reasonable structure, wide use, high efficiency, simple operation and maintenance and pretty safe performance. To get a good performance and increase its lifetime, the user should read carefully this operating instruction before using the machine, operate and maintain it according to the operating instruction, so the machine can work well.
Granite Pulverizer Equipment(CS Series Cone Crusher)
The CS Series Type cone crusher is the cone crusher which is the earliest appearance in the world, and it is used widest and larger quantity crush mechanism in present. With the improvement of the series of CS Series Cone crusher, their structure is more perfect and the technology parameter is more advanced, so these crushers have excellent performance in the aspects of manufacture, installation, use and maintenance etc.