Silica sand washing Plant
This Silica sand washing Plant consists of a washing line removing salt and clay powder included in the sea sands by washing them with water, and a separation line separating sands by their sizes. A patented sand feeder installed in the facility was developed using Clatec's expert technology and it has earned an excellent reputation among customers for its first-rate feeding performance.
Silica sand washing Machines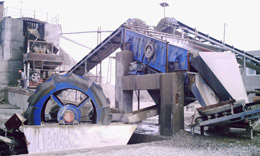 Silica Sand production plant consists of vibrating feeder, jaw crusher,VSI crusher (sand making machine), vibrating screen, Silica sand washing machine, belt conveyor and centrally electric controlling system, etc. The designed capacity is from 40t/h to 1000t/h.Washing is the simplest and lowest cost method of cleaning silica sand. In some of the very pure deposits that are void of heavy minerals, high amounts of clay and silt, and no surface staining, washing is sufficient to produce acceptable grade product. .If you need the washing plant,you will consists vsi crusher and the sand washer,you can also only use the sand washing machine or the sand making machine.