Limestone processing equipment
Limestone processing equipment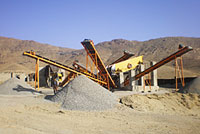 Limestone is a sedimentary rock composed primarily of calcium carbonate with the occasional presence of magnesium. Most limestone is biochemical in origin meaning the calcium carbonate in the stone originated from shelled oceanic creatures. Limestone can also be chemical in origin as is the case with travertine. Chemical limestone forms when calcium and carbonate ions suspended in water chemically bond and precipitate from their aquatic sources.
Limestone processing plant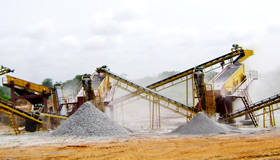 The first step of the process is a primary crushing of the material. This is typically accomplished for limestone using a jaw crusher,PEW jaw crusher or mobile jaw crusher plant. When operating jaw crusher, a continuous belt conveyor, vibrating feeder and vibrating screen is required in order to separate the different sizes of limestone blocks.
Limestone is often produced with a natural surface, but finishes can be applied. In such cases, often a polished or honed finishing is given to limestone products, but a variety of other finishes are also common. Polishing and honing are manually and/or mechanically accomplished through the use of polishing pads or bricks.

A secondary crushing step may be necessary if the product includes any features or custom size or shape. For this procedure, a cone crusher or impact crusher frequently implemented for limestone, but a variety of vibrating feeder and vibrating screen are also common. belt conveyor is again necessary for limestone blocks transport.