Ball Mill Introduction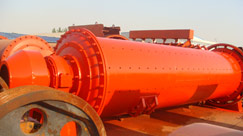 Ball mill is crucial equipment for grinding after materials are crushed. It is an efficient tool for grinding various materials into powder. Ball mill widely applied in cement industry, chemical industry, new building materials, fire-resistant materials, fertilizer, porcelain and glass industry etc. It has two ways of grinding: dry process and wet process.
Ball mill , a horizontal type and tubular running, has two warehouses. It runs along the outside gear. Materials spirally and evenly enter the first warehouse along the input hollow axis by input devices. In the ball mill' warehouse, there is a ladder scale board or ripple scale board.Steel balls of different specifications are installed in the scale board. When the barrel body rotates, centrifugal force is produced. At the same time, the steel balls are carried to some height and then fall to grind and strike the material. After being grinded coarsely in the first warehouse, the material then enters into the second warehouse for regrinding. In the end, the powder is discharges by output material board.
SBM in Nigeria
Our Ball Mills have been exported to more than 130 countries, Nigeria, India, South Africa, Indonesia, Saudi Arabic, Vietnam, ect. Our Ball Mill widely used in global mining and construction industry. SBM is the biggest Ball Mill manufacturing company, we have 30 years Professional Crushing and Grinding Mill Manufacturing Experience. Authentication by 200 thousands Customers ,Certificated by ISO9001 : 2000 Quality and Managementand EU CE . Each year, SBM would put 5% of sales revenue on R & D. It aims at upgrading its products to the world top level with the tenet of "Quality Changes the World".
For to better serve Nigeria customers, SBM will establish Nigeria office in 2009, if you want to buy Ball Mill or get Ball Mill prices, please contact us. We are here to help your business.
Ball Mill in Nigeria