Ball Mill In South Africa
Ball Mill Introduction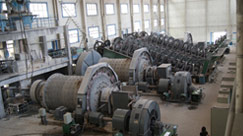 The ball mill is suitable in the powder rubs each kind of ore and other materials, the balll mill is widely used in the dressing, professions, building materials and chemical industry and so on. It is divided into two rubbing way-the dry and the wet .There are two kinds of ball mill, grate type and overfall type due to different ways of discharging material. The ball mill is a key equipment to grind the crushed materials after the material were broken , and carrying on the smashing again. and the ball mill is widely used in powder-making production line including cement, silicate, new-type building material, refractory material, fertilizer, ore dressing of ferrous metal and non-ferrous metal, glass ceramics, etc,the ball mill carries on the dry type or the wet powder to each kind of ore and other grindability material rubs.
Ball Mill in South Africa:
SBM in South Africa
Our Ball Mills have been exported to more than 130 countries, South Africa, India, Indonesia, Vietnam, Nigeria, Saudi Arabic, ect. Our Ball Mill widely used in global mining and construction industry. SBM is the biggest Ball Mill manufacturing company, we have 30 years Professional Crushing and Grinding Mill Manufacturing Experience. Authentication by 200 thousands Customers ,Certificated by ISO9001 : 2000 Quality and Managementand EU CE . Each year, SBM would put 5% of sales revenue on R & D. It aims at upgrading its products to the world top level with the tenet of "Quality Changes the World".
For to better serve South Africa customers, SBM will establish South Africa office in 2012, if you have any requirement, please contact us. We are here to help your business.
Ball Mill in South Africa