Impact Crusher In South Africa
Impact Crusher Introduction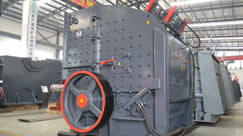 Impact crusher is a kind of crushing equipment, using impact energy to crush materials. When materials get into the area where the board hammer plays a part, under the impact function of board hammer at a high speed, the crushed ones are thrown to the impact device above the rotor continuously. And then they are rebounded from the impact liner to the area where the board hammer plays a part, and are impacted again. The materials from large ones to small ones get into the impact cavity for being crushed repeatedly. The process is going on until the materials are crushed to the required sizes and discharged from down of the machine.
Impact Crusher in South Africa:
SBM in South Africa
Our Impact Crushers have been exported to more than 130 countries, South Africa, India, Indonesia, Vietnam, Nigeria, Saudi Arabic, ect. Our Impact Crusher widely used in global mining and construction industry. SBM is the biggest Impact Crusher manufacturing company, we have 30 years Professional Crushing and Grinding Mill Manufacturing Experience. Authentication by 200 thousands Customers ,Certificated by ISO9001 : 2000 Quality and Managementand EU CE . Each year, SBM would put 5% of sales revenue on R & D. It aims at upgrading its products to the world top level with the tenet of "Quality Changes the World".
For to better serve South Africa customers, SBM will establish South Africa office in 2012, if you have any requirement, please contact us. We are here to help your business.
Impact Crusher in South Africa