Impact Crusher In Vietnam
Impact Crusher Introduction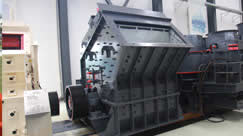 Impact crusher can deaI with any large,middle,and small materi(granite,Iimestone,concrete,etc.) With length no longer than 500mm,and compressive strength less than 320Mpa.It is widely used in mining,highway,uailway,and construction industries to produce artificial sandstone materials.At present,the comprehensive capacity of lmpact crusher is prior to Cone Crusher and Hammer Crusher.
It has the characteristics of novel structure,no-bond connecting,high chrome plate hammer,special impact lining plate and energy saving.The finished product is in cubical shape and the discharge granularities can be adjusted.It simplifies the crushing process.Operating principleImpact Crusher is a kind of crushing equipment which uses impact energy to crush maters.When getting into the effective area of hammer plates,due to the high speed of striking,the raw materials are thrown onto the impact equipment which is installed above the rotor.Then the materials are rebounded to the effective area of hammer plates and crushed again in the crushing chamber . At last, when the particles reach to the proper size, they will be discharged from the bottom of the machine.
Impact Crusher in Vietnam:
SBM in Vietnam
Our Impact Crushers have been exported to more than 130 countries, Vietnam, India, South Africa, Indonesia, Nigeria, Saudi Arabic, ect. Our Impact Crusher widely used in global mining and construction industry. SBM is the biggest Impact Crusher manufacturing company, we have 30 years Professional Crushing and Grinding Mill Manufacturing Experience. Authentication by 200 thousands Customers ,Certificated by ISO9001 : 2000 Quality and Managementand EU CE . Each year, SBM would put 5% of sales revenue on R & D. It aims at upgrading its products to the world top level with the tenet of "Quality Changes the World".
For to better serve Vietnam customers, SBM will establish Vietnam office in 2012, if you want to buy Impact Crusher, please contact us. We are here to help your business.
Impact Crusher in Vietnam