Portable Crusher In Nigeria
Portable Crusher Introduction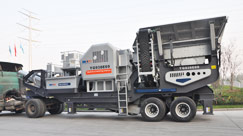 The Portable Crusher includes Hopper,Vibrating Feeder, Stone Crusher, Semi-trailer Chassis, and other supporting parts. The material is fed into the hopper by the loader. Vibrating Feeder can prescreen the material during its working process, and feed the bigger material into Stone Crusher for primary crushing process. Then crushed material will be carried out by the belt conveyor. SBM Portable Crusing Plant has the advantage of reasonable match, unobstructed material discharge, reliable run, convenient operation, high efficiency and energy conservation. The good mobility can make it move in and between different quarries. It can also work with other plants to meet different requirements of customers.
Portable Crusher in Nigeria:
SBM in Nigeria
Our Portable Crushers have been exported to more than 130 countries, Nigeria, India, South Africa, Indonesia, Saudi Arabic, Vietnam, ect. Our Portable Crusher widely used in global mining and construction industry. SBM is the biggest Portable Crusher manufacturing company, we have 30 years Professional Crushing and Grinding Mill Manufacturing Experience. Authentication by 200 thousands Customers ,Certificated by ISO9001 : 2000 Quality and Managementand EU CE . Each year, SBM would put 5% of sales revenue on R & D. It aims at upgrading its products to the world top level with the tenet of "Quality Changes the World".
For to better serve Nigeria customers, SBM will establish Nigeria office in 2009, if you want to buy Portable Crusher or get Portable Crusher prices, please contact us. We are here to help your business.
Portable Crusher in Nigeria