Stone Crusher Introduction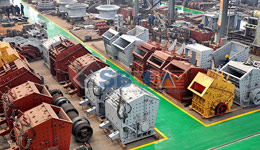 Stone Crushing Industry is an important industrial sector in the country engaged in producing crushed stone of various sizes depending upon the requirement which acts as raw material for various construction activities such as construction of Roads, Highways, Bridges, Buildings, Canals etc. It is estimated that there are over 12,000 stone crusher units in India. The number is expected to grow further keeping in view the future plans for development of infrastructure of roads, canals and buildings that are required for overall development of the country. In India, the Stone Crushing Industry sector is estimated to have an annual turnover of Rs. 5000 crore (equivalent to over US$ 1 billion) and is therefore an economically important sector. The sector is estimated to be providing direct employment to over 500,000 people engaged in various activities such as mining, crushing plant, transportation of mined stones and crushed products etc. Most of these personnel are from rural and economically backward areas where employment opportunities are limited and therefore it carries greater significance in terms of social importance in rural areas. It is a source of earning for uneducated poor unskilled rural people.
The stone crusher is one such industry that exists in the vicinity of almost all major cities/towns throughout the country in all the states because the construction activities go on throughout the country. As transportation of stone over long distances adds to cost of the crushed stone products, the crushers need to be necessarily located nearer to the demand centers such as Cities, Bridges, Canals etc. Stone Crushers also need electricity supply and large number of man power for its operation. It also needs access roads for the movement of mined stone as well as crushed stone products. It is for these reason that most Stone Crushers are located along the periphery of Cities or in the vicinity of major construction projects. In most cases the Stone Crushers come up in clusters of number of units ranging from five to fifty in one cluster. The crushers are located nearer to the source of raw material such as Stone mines, River Beds etc.
SBM in India
Our Stone Crushers have been exported to more than 130 countries, India, South africa, Indonesia, Vietnam, Nigeria, Saudi Arabic, ect. Our Stone Crusher widely used in global mining and construction industry. SBM has 30 years Professional Crushing and Grinding Mill Manufacturing Experience. Authentication by 200 thousands Customers ,Certificated by ISO9001 : 2000 Quality and Managementand EU CE . Each year, SBM would put 5% of sales revenue on R & D. It aims at upgrading its products to the world top level with the tenet of "Quality Changes the World".
For to better serve India customers, SBM established India office in 2010, if you have any requirement, please contact us. We are here to help your business.
Stone Crusher in India