Jaw Crusher Introduction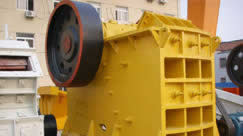 This series of Jaw Crusher have the advantages of big reduction ratio, even granularity, simple structure, liable operation, easy maintenance, economic operation cost, etc. It is widely used for materials with the max crushing compressive strength not more than 320 Mpa in the field of mine, metallurgy, building materials, roads, railways, irrigation, chemical industry, etc.
The Jaw crusher machines is drived by motor through belt and belt wheels,which makes the movable jaw plate up and down through eccentric shaft.When the movable jaw comes down,the angle between the fixed jaw plate and the movable jaw plate gets smaller,Then the materials can be crushed .When the movable jaw plate rises,the angle becomes lauger and the movable jaw plate leaves the fixed jaw plate with the function of tie bar and spring.At the same time the final products are discharged from the lower outlet of the crushing chamber.
SBM in Malaysia
Our Jaw Crusher Machines have been exported to more than 130 countries, Malaysia, India, South Africa, Indonesia, Saudi Arabic, Vietnam, ect. Our Jaw crusher widely used in global mining and construction industry. SBM is the biggest Jaw crusher manufacturing company, we have 30 years Professional Crushing and Grinding Mill Manufacturing Experience. Authentication by 200 thousands Customers ,Certificated by ISO9001 : 2000 Quality and Managementand EU CE . Each year, SBM would put 5% of sales revenue on R & D. It aims at upgrading its products to the world top level with the tenet of "Quality Changes the World".
For to better serve Malaysia customers, SBM will establish Malaysia office in 2008, if you want to buy jaw crusher or get jaw crusher prices, please contact us. We are here to help your business.
Jaw Crusher in Malaysia