Cone Crusher Introduction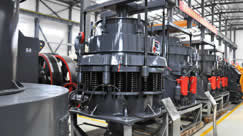 Spring Cone Crusher is widely used for secondary and fine crushing in the fields of mining, chemical industry, building materials, metallurgies and so on. The Cone Crusher can crush materials with Moh's scale in middle and high hardness such as ironstone, copper ore, limestone, quartz, granite, rock and so on. The standard type (PYB) is applied to secondary crushing; the medium type (PYZ) and the short-head (PYD) are applied to fine crushing.
When the cone crusher is working, the motor drives the eccentric bearing bushing via spring coupling, transmission shaft and a couple of cone gear wheel. The crushing cone axis is forced to swing by the eccentric bearing bushing, which makes the mantle sometimes close to the bowl liner, and some times far away from the bowl liner. The raw materials are pressed, impacted and finally crushed in the crushing chamber.
SBM in India
We have 4 kinds of cone crushers, include cs series cone crusher, spring cone crusher, hpc series cone crusher, hcs90 series cone crusher. Our Cone Crushers have been exported to more than 130 countries, India, South africa, Indonesia, Vietnam, Nigeria, Saudi Arabic, ect. Our Cone Crusher widely used in global mining and construction industry. SBM has 30 years Professional Crushing and Grinding Mill Manufacturing Experience. Authentication by 200 thousands Customers ,Certificated by ISO9001 : 2000 Quality and Managementand EU CE . Each year, SBM would put 5% of sales revenue on R & D. It aims at upgrading its products to the world top level with the tenet of "Quality Changes the World".
For to better serve India customers, SBM established India office in 2010, if you have any requirement, please contact us. We are here to help your business.
Cone Crusher in India