Cone Crusher In Indonesia
Cone Crusher Introduction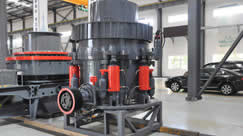 A Cone Crusher is one of the main types of primary crushers in a mine or ore processing plant. Cone Crushers are designated in size either by the gape and mantle diameter or by the size of the receiving opening. Cone Crushers can be used for primary or secondary crushing. The crushing action is caused by the closing of the gap between the mantle line (movable) mounted on the central vertical spindle and the concave liners (fixed) mounted on the main frame of the crusher. The gap is opened and closed by an eccentric on the bottom of the spindle that causes the central vertical spindle to gyrate. The vertical spindle is free to rotate around its own axis. The crusher illustrated is a short-shaft suspended spindle type, meaning that the main shaft is suspended at the top and that the eccentric is mounted above the gear. The short-shaft design has superceded the long-shaft design in which the eccentric is mounted below the gear.
Cone Crusher in Indonesia:
SBM in Indonesia
We have 4 kinds of cone crushers, include cs series cone crusher, spring cone crusher, hpc series cone crusher, hcs90 series cone crusher. Our Cone Crushers have been exported to more than 130 countries, Indonesia, India, South Africa, Vietnam, Nigeria, Saudi Arabic, ect. Our Cone Crusher widely used in global mining and construction industry. SBM is the biggest Cone Crusher manufacturing company, we have 30 years Professional Crushing and Grinding Mill Manufacturing Experience. Authentication by 200 thousands Customers ,Certificated by ISO9001 : 2000 Quality and Managementand EU CE . Each year, SBM would put 5% of sales revenue on R & D. It aims at upgrading its products to the world top level with the tenet of "Quality Changes the World".
For to better serve Indonesia customers, SBM established Indonesia office in 2009, if you want to buy Cone Crusher, please contact us. We are here to help your business.
Cone Crusher in Indonesia