Cone Crusher Introduction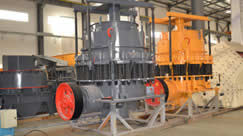 Cone crusher is suitable to crush various kinds of ores and rocks of medium or above medium hardness. Compare with jaw crusher, cone crusher is of stable structure, high efficiency, easy adjustment, economic operation, etc.
The spring safety system of crusher acts as an overloading protection system that allows metal to pass through the crushing chamber so as not to damage the cone crusher. The safety system uses dry oil and water as two kinds of sealed formation to make plaster powder and engine oil separate to make sure reliable performance. The type of crushing chamber depends upon size of feeding and fineness of crushed product. The standard type is applied to medium crushing, the medium type is applied to medium or fine crushing and the short head type is applied to fine crushing.
SBM in Nigeria
We have 4 kinds of cone crushers, include cs series cone crusher, spring cone crusher, hpc series cone crusher, hcs90 series cone crusher. Our Cone Crushers have been exported to more than 130 countries, Nigeria, India, South Africa, Indonesia, Saudi Arabic, Vietnam, ect. Our Cone Crusher widely used in global mining and construction industry. SBM is the biggest Cone Crusher manufacturing company, we have 30 years Professional Crushing and Grinding Mill Manufacturing Experience. Authentication by 200 thousands Customers ,Certificated by ISO9001 : 2000 Quality and Managementand EU CE . Each year, SBM would put 5% of sales revenue on R & D. It aims at upgrading its products to the world top level with the tenet of "Quality Changes the World".
For to better serve Nigeria customers, SBM will establish Nigeria office in 2009, if you want to buy Cone Crusher or get Cone Crusher prices, please contact us. We are here to help your business.
Cone Crusher in Nigeria