Iron ore Mining Processing
Iron ore crushing is actually the preparation process that are needed for decreasing the size of iron ores during all iron ore processing technology ....

Limestone Quarry Plant
In the limestone crushing plant, there are hammer crusher and impact crusher for big abridgement ratio ...For the limestone grinding equipment, Ball mill,raymond mill is common.
Copper Beneficiation Processing
In copper ore processing plant, crushing process is the important process. In this copper ore crushing plant, several crusher machines are used ...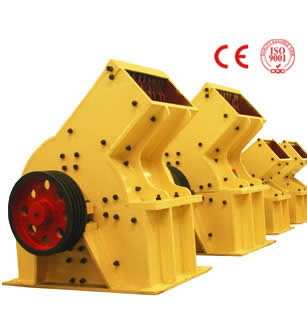 Hammer Crusher Introduction
Hammer crusher is suitable for mid-hard and light erosive materials, whose pressure resistance strength is no more than 100Mpa and humidity lower than 15%, such as coal, salt, chalk, gypsum, blocks, limestone, etc.
Click here to get hammer crushers and parts' price.

Working Principle
Specifications
Inquiry
The main working part of hammer crusher is rotors with hammer. The rotors consist of main shaft, disk, pin shaft and hammers. The motor drives the rotors to rotate quickly in the crushing cavity. Raw materials enter the crusher through the feed opening and are stricken, impacted, cut and ground by the high-speed hammer to small size.
There is a screening plate under the rotor, so that m?aterials with size smaller than the screen mesh will be screened out and others are left to be further hammered and ground until reach the standard size. The size of the final product can be adjusted by changing the screening plate. The gap between the rotors and the screening plate can also be adjusted according to different requirement.