Iron ore Mining Processing
Iron ore crushing is actually the preparation process that are needed for decreasing the size of iron ores during all iron ore processing technology ....

Limestone Quarry Plant
In the limestone crushing plant, there are hammer crusher and impact crusher for big abridgement ratio ...For the limestone grinding equipment, Ball mill,raymond mill is common.
Copper Beneficiation Processing
In copper ore processing plant, crushing process is the important process. In this copper ore crushing plant, several crusher machines are used ...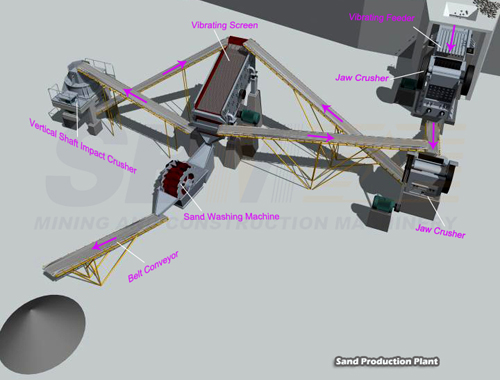 Sand Making Flow Introduction :
The sand-making production line produced by our company can provide you with all-around technical support. The whole line consists of vibrating feeder, jaw crusher, Vertical Shaft Impact Crusher, vibrating screen and belt conveyor. According to specific requirements, we can combine different models together to meet various needs.
Brief introduction of the sand-making production line:
The raw materials are first put into elementary-crushing machine for crush, then the belt conveyor transfers the elementary products to the secondary-crushing machine for secondary crush. The secondary products will be separated into two kinds by the vibrating screen.The parts satisfying the standard of the Vertical Shaft Impact Crusher will be conveyed to the sand-making machine and the other parts will return to the secondary-crushing machine. The parts into the sand-making machine will be the finished products after being washed in the sand-washing machine. The other parts will be for the secondary crush.
Features of the sand-making production line:
The whole line is highly automatic, with low operation cost, high crushing ratio, low power consumption, high capacity, low pollution and easy maintenance. The size of the finished product is even and in good shape, which meets the national sand-making standards.