Iron ore Mining Processing
Iron ore crushing is actually the preparation process that are needed for decreasing the size of iron ores during all iron ore processing technology ....

Limestone Quarry Plant
In the limestone crushing plant, there are hammer crusher and impact crusher for big abridgement ratio ...For the limestone grinding equipment, Ball mill,raymond mill is common.
Copper Beneficiation Processing
In copper ore processing plant, crushing process is the important process. In this copper ore crushing plant, several crusher machines are used ...

Brazil Buyer delegation visit SBM
On March,13th, Brazil Buyer delegation of 18 persons which lead by Brazil guild visited SBM ,CEO Yu Xiaolu, Engineer Chen Jianguo, Sale manager Sabrina Zhou welcome the faraway friends.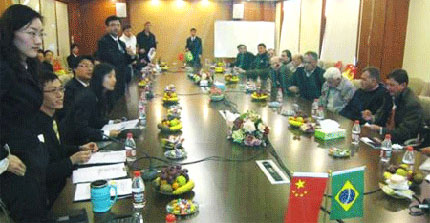 Although it was cold , at the time that Brazil Buyer delegation arrived ,all the preparation for them showed a warm atmosphere .The electronic screen display --- "Welcome Brazilian Delegation to Visit SBM",which made guest our friendly and recognition. CEO Yu received them in body, shake hands with everyone ,at the same time ,welcome in English, Portuguese, and Chinese resounded in the hall, it seemed that SBM leaved the guests a very happy impression.
After the meeting , Brazil Buyer delegation visited the Exhibition Hall ,and had a deep impression of the excellent production and the special explanation! The gusts' questions were also answered by the stuffs.
As time to say goodbye, everyone took picture together ,leader of the Brazil Buyer delegation appraised the SBM team ,and showed their interesting to SBM and the production. At the same time ,he hoped to have a further business cooperation. As host we also hope the Brazil Buyer delegation can bring SBM a high outstanding achievement distribution.

Check the corresponding services :