Iron ore Mining Processing
Iron ore crushing is actually the preparation process that are needed for decreasing the size of iron ores during all iron ore processing technology ....

Limestone Quarry Plant
In the limestone crushing plant, there are hammer crusher and impact crusher for big abridgement ratio ...For the limestone grinding equipment, Ball mill,raymond mill is common.
Copper Beneficiation Processing
In copper ore processing plant, crushing process is the important process. In this copper ore crushing plant, several crusher machines are used ...

SBM will make donation to Fukushima 50 — at the risk of life, love in the world
"I am not afraid to die. That is my job."— A faceless worker said.
The magnitude 9.0 earthquake on March 11 in Japan raises a worldwide concern. The damages caused by this disaster spiked to unprecedented levels after the nuclear power plant leakage. In the most danger's time, 50 plant workers risk their lives to make the last defense at troubled Fukushima nuclear power plant. Experts refer to nuclear safeguards, which 50 people for a long time to work in conditions of strong radiation, of which 70% of the staff may be dead within 2 weeks.
They are named as Fukushima 50
On the morning of March 16, the second explosion at Reactor No.1 of Fukushima nuclear plant occurred ensuing meltdown. The 50 workers were assigned to evacuate, but as the radiation levels decreased, they went back to nuclear plant, risking their lives to cool down the reactor by pumping water from the sea directly into it. They're also equipped with state-of-the-art gear designed to protect them from exposure -- but those are weak safeguards against high levels of radiation exposure. The selfless workers not afraid of death have won the precious time for other rescue operations.
The Tokyo Electric Company has not provided their names. Media and netizens call them the Fukushima 50.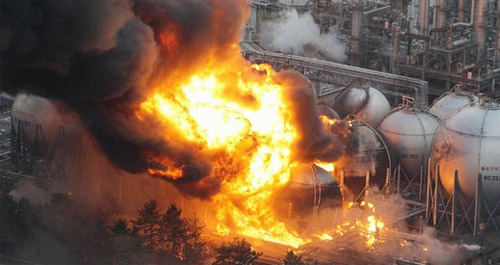 At the risk of life, love in the world
Men of Sace, who dare to die. We never lack true man of sace in the danger's time. They are the back which ensures the being of mankind. In 1986, the Chernobyl reactor blew up in Ukraine. A monument has been erected in Chernobyl to memorize the firemen who lost their lives in this disaster. It says "For those who saved the world…" The same words are for the 50 selfless workers. What the Fukushima 50 defends is not only the Japanese nation's safety, but also for all mankind. They risk their lives in exchange for miracle that all people escape the reactor explosion disaster. The unexpected disaster brought miserable and dark timer but the brilliance of humanity in difficult situations can always bring us light and onward impulses.
The selfless spirit and love showed by the 50 heroic figures has touched everyone in the world. The toughness of life and brilliance of humanity showed up in the disaster are more striking that disaster itself.
This is my job
The Fukushima 50 has got high praise after being reported. People speak highly of their heroic behavior. The 50 workers have no time to accept any interview or give any reply, only telling their families that this was their job, and that they were ready to scarify for people's safety.
"We are not afraid to die, this is our job." A worker said. We do not hear any heroic utterance or passionate words, but simple words like mission, responsibility and job. A 59-year-old veteran is willing to use his own life in exchange for more security. With six months to retire, he can take on the high pension, endowment turn to the life, but he said the "sense of mission to make this decision yourself".
The sense of mission, which appears quite normal, is actually such a simple concept realizing true magnificent feat and heroes. They know what they are doing. They know what they are facing. Columbia University Radiological Research Center, David said: "Their situation is not good, obviously they will face high levels of radiation contamination, and to that end their lives. They know this, so these people are the real heroes." "I would not regret dying for it a thousand times," for the mission, for the sense of mission.

Check the corresponding services :