Iron ore Mining Processing
Iron ore crushing is actually the preparation process that are needed for decreasing the size of iron ores during all iron ore processing technology ....

Limestone Quarry Plant
In the limestone crushing plant, there are hammer crusher and impact crusher for big abridgement ratio ...For the limestone grinding equipment, Ball mill,raymond mill is common.
Copper Beneficiation Processing
In copper ore processing plant, crushing process is the important process. In this copper ore crushing plant, several crusher machines are used ...

"Quality star" build quality
The May 23 2011, Shanghai Shibang Machinery ZhuQiao industrial park April "quality star" commendation ceremony was held in front of the office building. The congress read the results. Eight employees got April "quality star" honorary title.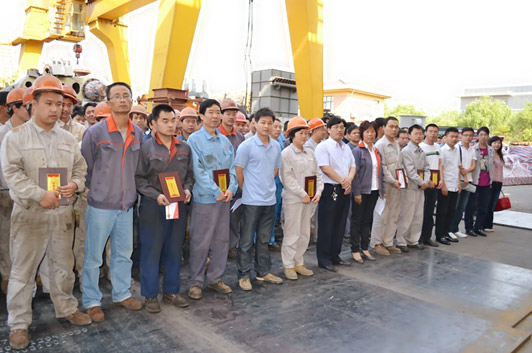 It is reported that "quality star selection campaign started from last year. At the beginning of every month, workshop director and department director recommend the department "Quality Star" candidate according to employee performance's of each month, each workshop, each department. Then operation center and qc examine the candidates according to a series of appraisal standards like their task completion rate, month attendance, FPY and quality consciousness and so on. Eventually within10 selected employees shall be promulgated.
ZhuQiao industrial park officials said: "quality is the life of enterprise. We hope to provide a discussion and unthinking platform through that way for group staff, letting us to attentively understand the important significance that quality plays for an enterprise. Making the first-class quality, first-class products, wining customer's trust with high-quality, can we truly achieve the enterprise development and employee value in win-win situation."

Check the corresponding services :