Iron ore Mining Processing
Iron ore crushing is actually the preparation process that are needed for decreasing the size of iron ores during all iron ore processing technology ....

Limestone Quarry Plant
In the limestone crushing plant, there are hammer crusher and impact crusher for big abridgement ratio ...For the limestone grinding equipment, Ball mill,raymond mill is common.
Copper Beneficiation Processing
In copper ore processing plant, crushing process is the important process. In this copper ore crushing plant, several crusher machines are used ...

Quality Supervision - Enhance the quality competitiveness of ShiBang Machinery Co.Ltd.
As the important part of the production process of HPC220 hydraulic cone crusher made by ShiBang Machinery Co. Ltd(hereafter referred to as SBM), quality supervision is also the significant content of quality management. At present, the quality supervisors of SBM has taken part in the whole monitor of producing HPC220 hydraulic cone crusher, containing machine processing, assembly, welding and other aspects.They can summarize and feedback the problems timely to ensure to meet the customers' demands faster and better.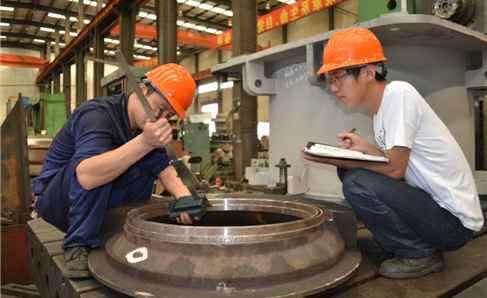 When referring to the significance of the job, our quality supervisor---engineer Tian has his own attitude: creating perfect quality is always our unremitting pursuit, and the arrangement of the quality supervisor is aimed at prompting the process. "To tell the truth, the pressure is really great when you are in this position. Although I have engaged in related work for many years, the supervisor is required to control the whole process, and be good at discovering problems so as to summarize and improvement. So constant learning is a must." Reportedly, in addition to the selection by the internal layers, the quality supervisor has got systematic training about law,producing procedure, and relative rules. What's more, our company specially appoints Engineer Guo---the senior technician to take guidance of the supervision process. In addition, our quality supervisors will summarize and analyse the problems found at the producing scene , and then carry out special training for the counterpart staff in related area. As for the achievements of the quality supervisor , our company will conduct regular assessment according to the production and the feedback of the customers.
During the interview, Engineer Qiang---the quality supervisor has shown us all the record of supervising producing cone crusher, and only the assembly process, there are more than 20 process supervision records including cleaning, installation of sealing ring, spindle assembly, installed oil seals and so on.According to the introduction,each test data will be collected and sorted, and recorded in the corresponding database of HPC220 hydraulic cone crusher.

Check the corresponding services :