Ballast quarry machinery
Railway ballast quarry stone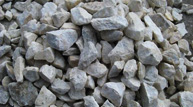 Railway ballasts are broken pieces of hard rock within the grain size range of 25mm - 60mm, over which the railway tracks are laid. Quarries in dolerite, greywake, shale, pebbles and granitic rock formations are some of the major sources of large stones that may be selected as railway ballast based on a range of properties. Flakiness index, Roundness, sphericity and shape factor, and Los Angeles Abrasion indices of samples of the five rock types were determined. A strong correlation between the average particle size and flakiness index was observed. Rounded ballasts were found not to be affected by abrasion, while angular ballasts tended to break during abrasion. The granite, shale and dolerite that were tested, performed well during abrasion, are classified as angular ( good for rail foundation) by caliper and chart method or rounded to well rounded ( bad ballast property) by digital shape analysis and therefore may not be recommended as good ballasts material. The short life span or fast abrasion of some ballast material may be due to selection of sorting and selection by conventional sorting methods i.e. charts and manual linear measurements.
Ballast quarry machinery
SBM has a lot of experience in Ballast quarrying phase, our Ballast quarry machine is working in over 160 countries in the world, we manufactured the frist mobile crushing plant in China, Our Ballast quarry equipments has successfully achieved ISO9001 : 2000 Quality Management Certificate and EU CE Certificate. we have jaw crusher, impact crusher, cone crusher and vsi crusher for consumer to choose.