Portable concrete crusher
Concrete recycling portable equipment case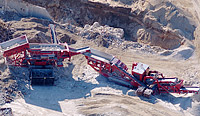 If you need concrete recycling portable eqiupment, please contact us.here is a client of us from China.
Lei Zhang, president of BWQ Crushing, said the company has built a business on taking broken chunks of concrete that are pulled from construction projects and processing the material so it can be reused. The concrete is crushed, ground, and sorted so it can be reused in a number of applications. According to many observers, this is an effective recycling of a oncewasted resource and a significant savings over landfilling.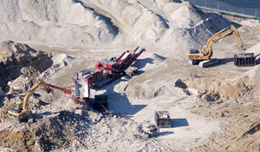 Zhang said the company began recycling concrete about two years ago. "I had been interested in it for several years," he recalled. "And I just kind of came across the right opportunity to get into it."
"We bought our first SBM portable crushing equipment when we started up our business two years ago," Zhang said. "The first one worked out very well for us. It was just a little over a year later that we bought our second one."
Both plants are SBM portable plants that are equipped with PE jaw crushers, The equipment effectively reduces the raw concrete to useable dimensions while removing the re-bar and any other undesirable material with an overhead magnet and manpower.
Each of the BWQ Crushing plants is processing 400,000 to 500,000 tons (363,000 to 454,000 metric tons) of material a year. "That's a lot of crushed concrete," Zhang said. "Both of the Telsmith crushing plants are working out very well for us!"