Calcium carbonate process
Calcium carbonate processing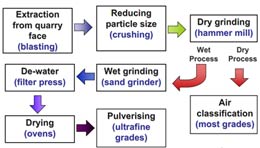 Calcium carbonates processing could be divided into those steps(left image). This website we discussing the crushing, grinding, pulverising steps,and the machines used in those steps.
Calcium carbonates crushing processing: we provide stone crushers for this step, you can choose jaw crusher,impact crusher,cone crusher,mobile crusher. The capacity of jaw crusher is 1 - 1000 t/h, and the capacity of our impact crusher is 50 - 300 t/h...for more imformation,click here start a live chat.
Calcium carbonates grinding processing: We provide Ball mill, vertical roller mill, raymond roller mill.
Wet Cement Ball Mill are used primary for single stage fine grinding.It is the key equipment that repulverzes the Calcium carbonates raw material affter it is crushed,which is widely used in the manufacture industries,such as calcium carbonates,silicate,new building material,refractory materail,fertilizer,mill run of ferrous metal,nonferrous metal and glassceramics and can be used for the dry and wet pulverzation for all kinds of ores and other grindiable materials.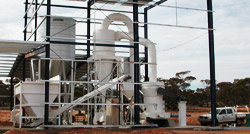 Calcium carbonates pulverising processing: We provide SCM ultrafine mill, T130 Ultrafine mill for this step.
SCM series ultrafine grinding mill is a fine powder and ultrafine calcium carbonates powder production machine which can meet your fine particle processing, micronizing, fine dry grinding, air classification and other comminution requirements. The SCM ultrafine mill is a dry airswept media mill used for the production of fine alcium carbonates powders typically below 45 microns. The grinding capacity is from 350Kg/H to 7 TPH according to different models. The feed calcium carbonates raw material must be suitable for pneumatic conveying, typically all below 3 mm.