Calcium carbonate quarrying
Calcium carbonate introduction
Calcium carbonate occurs naturally as the principal constituent of limestone, marbel and chalk.CaCO3 powders are widely used in rubber,plastic, paper making, printing ink, cosmetics, toothpaste, and food industries. Natural ground Calcium carbonate has been used for years as the primary constituent of putty.Calcium carbonate is an important material of marine and geological biomineralization processes. Since 1945, the processing of natural Calcium carbonate has seen the introduction of beneficiation by flotation to remove impurities and the development of grinding processes to manufacture finer products.
We provide Jaw crusher , Mobile Crusher , Impact crusher for Calcium carbonate quarrying. If you need any Calcium carbonate quarrying machines,please contact us.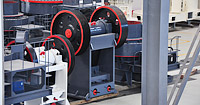 Jaw crusher is kinds of heavy stone crusher, it's always used in calcium carbonate quarrying line for primary crushing.In addition to bringing you high performance, PF Series crushers are also designed to bring your total crushing costs down. Each unique feature of the PF Series brings specific benefits that have a direct impact on the bottom line – which means that you will be more profitable. Those who have owned and operated PF Series jaw crushers know that not all jaw crushers are the same!
PF Series impact crushers have been designed to minimise maintenance and improve all adjustment operations. PF Series impact crushers deliver unbeatable performances in primary, secondary, tertiary and recycling applications.