Dolomite crushers
Dolomite introduction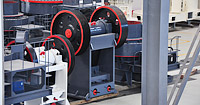 Dolomite can be used as the furnace refractory lining of steel transformation, as slag raw materials of cement, glass flux, ceramic, fertilizer, building and decorative stone, paint, pesticides, and medical and others and can be used as building materials, ceramics, glass and refractories, chemicals and agriculture, environmental protection, energy conservation and in other fields.
① a broken process. A broken process is generally used to provide the right from the feed mill, often constitute a system with self-mill. The process is simple, less equipment, plant and small footprint.
② two crushing process. The mostly small-scale plant using the process.
③ three sections broken process. The basic form of the process open and three sections of three sections of a closed two.
④ work with broken washing process. When the feeding of the mud (-3mm) of more than 5% to 10% and water content greater than 5% to 8%, should increase in the crushing process Dolomite washing operations.
Dolomite crushers
Dolomite crusher is the crushing machine that is used to crush dolomite ore into particle or dolomite sand. Usually dolomite sand has types as follows: 6-10 mesh, 10-20 mesh, 20-40 mesh, 40-80 mesh, 80-120 mesh. The complete dolomite crushing plant consists of dolomite crusher, vibrating feeder and vibrating screen. There are several types of stone crushers that can be used as dolomite crusher.
Jaw crusher is the primary crusher that is used for primary crushing. It is the common dolomite crusher in dolomite mining. The range of final size of products can be 10-300 mm, and the capacity can be up to 100 ton/h.
Impact crusher is the secondary crusher. This crushing machine features reasonable structure, high productivity, easy operation and maintenance and safe performance. The most advantage of it is that the final particle is in good, cubic shape and without tensility and cranny.
Cone crusher is the secondary or tertiary dolomite crusher, it is suitable for hard and mid-hard rocks and ores, such as iron ores, copper ores, limestone, quartz, granite, gritstone, etc.
VSI crusher is also called sand making machine, it is the main machine for dolomite sand making. It is applied for the powder process of mineral product including metal and non-metal ore, fireproof materials, bauxite, diamond dust, glass raw materials, archtiectural materials, artifical sand and all kinds of metal ore materials.