Sand washing plant
Sand Washing Machine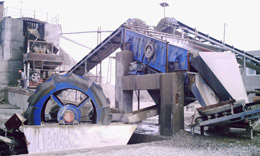 Sand Washing Machine is a kind of wheeled washing equipment, and can clean and separate the dust and powder from the sand. Its new seal-structure and reliable driving device can make sure the cleaning effective and a kind of high efficiency sand washing equipment matched with the Sand Making Machine. Sand Washing Machine are mainly used in building site, gravel plant, concrete dam building site of hydropower station, etc., and with features of high degree cleaning-up, reasonable structure, large capacity, low power consumption, small loss of the sands during the washing process, especially for that the drive parts of the Sand Washing Machine are separated from water and sands. So that it has lower failure rate than the usual Sand Washing Machine.
Vibrating Feeder for sand washing plant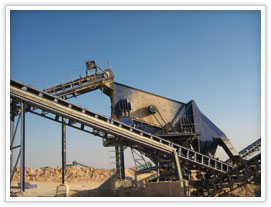 The Vibrating Feeder (Vibratory feeder) is used to transfer the large size materials and granular materials from Silo to receiving device uniformly, periodically and continuously in the production flow and to feed materials into the crusher continuously and uniformly also to screen the materials in the sandstone production line. The Vibrating Feeder is widely used to match the crushing and sieving equipments in many industries including sand washing plant ,metallurgy, coal mine, mineral dressing, building material, chemical, grinding, etc.
Belt Conveyor for sand washing plant
Belt Conveyor is a kind of machine that to transfer the material continuously. The belt works under the effect of frictional force. It is not only the components to transfer the material, but also the components to transfer the force. The Belt Conveyor is advanced and simple in structure, easy to maintain. Its transfer capacity is high, transfer distance is long. They are widely used in mining, metallurgical and coal industry to transfer sandy or lump material, or packaged material. In many situation, it Is a very important component of nonstandard machinery.