Calcite crusher machine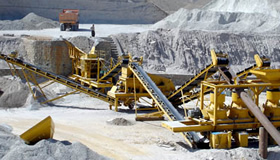 Calcite, calcium carbonate, (CaCo3), is one of the most common minerals in the Earth's crust. It crystallizes in the hexagonal system with the most common form being the six-sided pyramid or scalenohedron, with stong rhombic cleavage. It is the principal constituent of all limestones, often as much as 99%, and is largely the fossilized remains of marine organisms such as corals, crinoids, brachiopods, molluses and other shellfish. Limestones include both whole fossils and fragments held together by calcite cement between the grains.
We provide stone crusher,like jaw crusher, impact crusher or cone crusher for calcite crushing. If you need any ccalcite crushing machines, please contact us.
Jaw crushers are primarily used for reducing various kinds of stones and lump materials into medium-grained gravel. The materials to be crushed can be hard, medium-hard and soft minerals whose compressive strength should be not more than 320 MPa. Our jaw crushers adopt V-shape inlet, resulting in higher crushing efficiency. Currently, these products become the preferred primary crushing equipment in the production of stone. They are widely used in many industries, such as mining, metallurgy, building material, railway, water conservancy, chemicals, and so on.
CS Series cone crusher is widely applied in metallurgical, construction, road building, chemical and phosphatic industry. Cone crusher is suitable for mid-hard rocks and ores, such as irons, copper ores, limestone, quartz, granite, gritstone, etc. Type of the crusher cavity is decided by the application of ores.
Impact crusher is a new type of high-efficiency crushing equipment. This crusher mainly consists of board hammer, impact plate, board hammer pedestal, rotor, and feed port etc. Being simple, reliable and energy-efficient, our impact crusher is one of the most frequently used rock crushers.